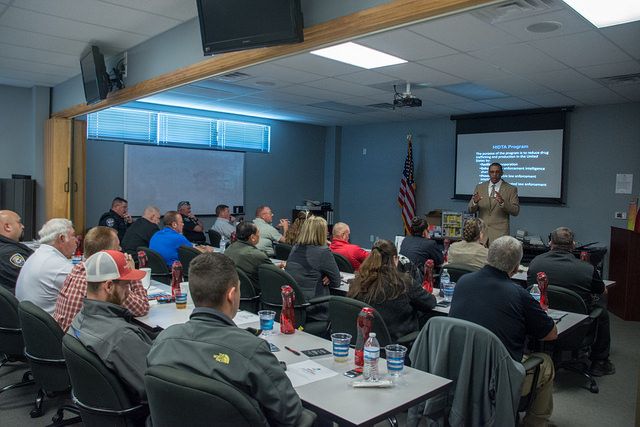 A standing-room only group of law enforcement officers packed DPR's IMPACT Communities Lunch & Learn featuring Texoma HIDTA Director Lance Sumpter earlier this week.
Director Sumpter reported that his High Intensity Drug Trafficking Area office is seeing drug cartels in the Dallas-area that are putting meth as high as 90-percent pure on the streets (in years past the purity level was 40- to 50-percent).
The current cost of black tar heroin is $18,000 - $20,000 per kilogram and fentanyl/carfentanil is on its way. In fact, the Drug Enforcement Administration is warning its local law enforcement officers to use extreme caution--even with their drug dog partners--when they find themselves exposed to fentanyl. According to the DEA's Briefing Guide for First Responders, "while fentanyl may be 50-100 times more potent than morphine, and 30-50 times more potent than heroin, carfentanil, which is structurally related to fentanyl, is up to 10,000 times more potent than morphine."
An interesting tidbit learned at the luncheon came from a DEA agent who says his first step for training new agents is to make them experts on social media and the dark web. The need for vigilance in protecting our children and communities must come from community sectors.
Thanks to all who came out for this successful Lunch & Learn and a special thanks to the Ellis County Sheriff's Department for hosting the event. Watch for more!